Obituary for Gi Seong Lim
Gi Seong Lim, age 59, was born August 13, 1960 in Seoul, South Korea to his mother Geun Nan Sawng and father Heung In Lim (deceased). He passed away Sunday, September 15, 2019 at Riddle Hospital after battling congestive heart failure.

Gi Seong Lim immigrated to the United States in September 1990 with his siblings and daughter. He was a resident of Newtown Square, PA at the time of his passing. He was a successful and knowledgeable car mechanic and eventually ventured into carpentry. Despite the lack of formal education and language barrier, he opened and operated Lim's General Contractor. In his spare time, he enjoyed reading and fixing things as he was a man of many talents. He was also well known for his singing; he sang a beautiful solo at his brother's wedding. He was a proud grandfather and a father of a US Navy veteran.

He is survived by his Mother, his sisters Jung Hee Hyung, In Sook Lim (Korea) and Bong Suk Lim, his brothers Tae Seong Lim (Korea) and Bong Seong Lim and Bong Seong's wife Judy Hong. He will be lovingly remembered by his girlfriend of +10 years Youn O. Whang. His daughter Esther BoRyung Lim, her fiance Farris Hinton, III and grandson Micah CheongDong Hinton will forever honor Gi Seong and love and miss him..

Relatives and friends may honor his life and share memories on Saturday September 21, 2019 from 9:00 am till 11:00 am at Emil J. Ciavarelli Family Funeral Home located 516 Fayette Street, Conshohocken, PA 19428.



1960년 8월 13일 서울에서, 아버지 (고)임흥인씨와 어머니 송근난씨 사이에 차남으로 태어난 임기성씨(59)가 지병(울혈성 심부전증)으로 병마와 싸우시다가 2019년 9월 15일 Riddle병원에서 별세하셨기에 삼가 알려드립니다.

풍부한 지식과 세심함을 바탕으로 완벽한 서비스를 위한 자동차 정비사였으며 목공사이기도 하셨습니다. 이민 1세로서 언어 장벽과 문화적 차이에도 불구하고 늘 탐구하고 공부하며 Lim's General Contractor를 개업하고 운영하였습니다. 고인은 많은 재능을 가진 사람으로서 여가시간에는 일에 대한 열정으로 공부하고 배우기를 즐겨하여 많은 독서를 하셨습니다. 또한 낙천적이며 낭만적인 성격으로 동생의 결혼식에 직접 축가를 부르기도하고 각종 노래자랑에 참가하여 임상할 정도노 노래를 좋아하셨습니다. 끝으로 고인은 홀로 하나뿐인 딸을 키우고 올바른 사회인으로 성장시켰으며 하나뿐인 손주도 아주 많이 사랑하는 할아버지셨습니다.

고인을 추억하며 삼가 고인의 명복을 빕니다.

상주: 임보령(딸)
사위:페리스 힌튼(Farris Hinton)
모친:송근난 여사
형제/자매: 임태성, 임봉성, 현정희, 임인숙, 임봉숙
제부: 홍 주디(배우자 임봉성)
연인: 황연옥
손자: 임청동(Micah C Hinton)

친우 친지분들은 부디 참석하여 주셔서 그의 마지막 가는 길을 함께 해주시면 감사하겠습니다.
빈소: Ciavarelli Funeral Home (516 Fayette st, Conshohocken PA19428)
발인(뷰잉): 2019년 9월 21일 토요일, 오전 9시~11시
To send flowers or a remembrance gift to the family of Gi Seong Lim, please visit our Tribute Store.
Previous Events
Service
Ciavarelli - Conshohocken
516 Fayette St.
Conshohocken, PA 19428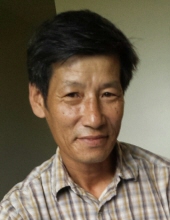 Thank you for sharing your
memory of Gi
Provide comfort by sending fresh
flowers from our local florist.
No thanks, please don't show me this again.